Post by Curiosity on May 15, 2009 8:58:16 GMT -5
Characters Involved:
Zephyr, male kestrel
Gully, male badger
Flume, female otter
Kindle, male Dall sheep
Sage, female lynx
(Picture courtesy of Whyk! <3)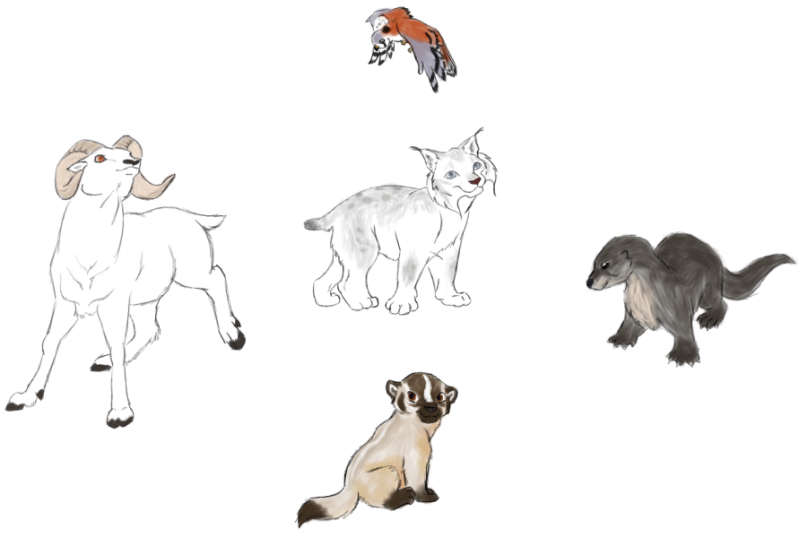 === Hilltop Vista ===
Zephyr is making no effort to fly at his top speed, or even half speed. He has approached every large group of animals he has seen in this land, and quite a very smaller ones beside. Surely, with the number of animals he spoke to, word will be passed to those he missed. From a couple miles out, still, he can clearly see the hill on the east side of the river, and as his lazy wingflaps bring him closer, he spends more time gliding than flying, slowly dropping in altitude.
The wood, surrounded by thick foliage and achingly old trees; it's where he belongs, not out in the open like this. A hulking, low to the ground beast stalks his way out of the forest, stopping and squinting into the sky with an annoyed chuff at the slowly spiraling kestrel above. Grunt. The dark-striped badger drops his heavy snout and ambles across the fresh, green landscape, stopping once to unearth a small patch of newly bloomed clovers, munching on the freshshoots and looking for anything more appetizing growing underneath them. Finding nothing, Gully stops and sits down heavily on his hindend, lifting his snout and waving a dirty digging claw, "'OY!"
It's a rare thing for this particular otter to wander so far away from the water. Having traveled through a long stretch of clover to arrive at this hill, Flume tries once more to analyze the strange pull this hill seems to have on her. Why the strong desire to travel there? And why now? Her sleek fur, now dry from the sun's light as she traveled over unfamiliar terrain, feels the breeze that is oddly similar to the rush of water over her form. Water. The essence of life, as far as Flume is concerned, and her main joy in life. To be this far away from it, to be so strongly attracted toward a topographical feature.. toward /land/... it's truly remarkable. The bird-of-prey overhead is given a curious look, but as her eyes now catch the form of the lynx up ahead, it all starts to make sense. It's that time, apparently.
A tall, snowy pale ram climbs the hill. Well... perhaps 'climb' is too insufficient a term for it. He practically glides up the slope, and stomps to a halt just at the top. At first, Kindle does not acknowledge the others. He takes his time scanning the scenery around them, his expression brushed with a faint smile. Then, with a shake of his head, the sheep looks from one of his fellows to the other, nodding once at each. "You've all been well?" The question is spoken as if it were only a mere formality, as if he weren't expecting anything but a positive response at all.
Carrying a small scrap of leather in her mouth that's been fashioned into a makeshift pouch, Sage carefully sets it down as she settles near the gathering group, the flaps falling open to reveal a myriad of miscellaneous trinkets and various other odds and ends - items the five have collected over the years and use as bartering chips in trades. Looking around as the other three land-dwellers among their traveling band make their way to the designated hill they had discovered upon arriving in the lands, the white lynx offers a pleasant smile to each in turn. "Welcome, friends. It's been a while since we all met last, has it not?" She lifts her blunt muzzle, closing her eyes as she scents at the warm breeze, a sign of coming spring. When her pale blue eyes open again, she sights the small falcon swooping about above, and she smiles again, calling up towards him: "I trust you've spread the news, Zephyr?"
Could the feel of swimming even begin to compare with the feel of flying? Not so far as the kestrel is concerned. The most simple joy he knows is displaying his aeronautic prowess, and so, though he has hear the question, he does not immediately answer. Rather, he pulls in his wings to initiate a sharp dive, bringing himself as close to the ground as he feels comfortable before he again spreads his wings and pulls up to guide, just a few inches above the ground, for several feet before he brings himself to a true stop, not far from the lynx. Has he been well? Never better. "Aye. Shouldn't be more'n a few days 'fore everyone knows about it." After all, who could ignore spreading news of the colorful, in both feather and speech, bird who visited them?
Quite unimpressed, at least, his face seems to relay that to the hodgepodge gathering, Gully only gives each creature a long look down his striped muzzled, grunting lowly as the bird and the lynx converse with one another. He heaves a heavy sigh and closes the distance between himself and Sage, bending his nose to the ground where the strange, makeshift little pouch holds the scent of all the trinkets, loam, flora, and other long forgotten scents of far off lands that bring about old memories in him. It teases from the codger badger a smile before he straightens a little and shakes his pelt, dark eyes moving to the smaller otter, and the towering sheep. "Aye, well 'nuff," he gruffs out, as pleasantly as he can, "But has it really been that long? Seems 'as it was only yesterday."
Of course swimming can't compare to the feel of flying. Gliding through the water is just so far more enrapturing there's no comparison at all. But they aren't here to debate their respective venues; it's the lynx that demands their attention now that they've all gathered, and it's to the lynx that the otter rests her gaze. After she's visually examined each and every one of the trinkets that she can see, and already her mind is awhirl with possibilities. Colors, shapes, sizes, combinations, patterns... she can hardly wait! "The rivers are full of life, and I as well," is her answer to the feline, eyes bright with curiosity. What will happen this time around with them having gathered once more? What new memories and stories will she have to feast on over the subsequent months?
Stepping around carefully, making sure his hooves avoid his smaller companions, Kindle lowers and tilts his head to one side so he can thoroughly examine Sage's things. Images flit through his mind's eye, of their last gathering. Of the stories told, and the magic worked. And then of the seasons that passed by since that last time. His attention span is fickle, though, and it's not long before his neck cranes back up. "Only yesterday, Lev? I thought it felt like a life time. Two, even." And how glad he is that this day has at last come again.
Sage seems delighted by the aerial show -- after all, they are the Merrymakers, are they not? -- and nods in a general response to the group. "The spirits have told me that Luna will be hiding her face from us once again this spring. We must rally together in a celebration of love, joy, and life, calling to her in song and dance lest she hide herself from her children forever." The pale-furred lynx looks from falcon to badger to otter to ram before speaking again. It's not as if they haven't heard this speech before, but it's practically become tradition. "But we cannot do it alone. We will need to attain the help of the local citizens here. We have much to offer them in exchange for their assistance -- story-telling, songs, spells, unique goods, a communal feast, and simply the promise of friendly company. We will also need to make it known that while we are here, these lands will serve as a sanctuary, and the spirits will not look kindly upon those who break this sacred space with hate and malice." The lynx looks among her companions once again, curious to see what they have to add. She is no more a leader than any of them, merely another point on their elemental star, an equal among their round table.
Yes, all pretty well par for the course. Zephyr sets to preening himself, just enough to straighten his feathers, as he listens to Sage. He has nothing in particular to add, after having passed on the message that, well... He has passed on the message, so he simply devotes himself to fixing his feathers as he listens to the others.
Gully's small, rounded ears twitch, his head tilting up as Kindle addresses him, but he only squeezes out a somewhat agreeable grunt before his full attention is given to the Spirit. Endlessly black eyes close, head bobbing gently up and down at her words; words they all know quite well, and yet everything time she says them he feels a great surge deep in his chest. He begins to sway a little, dancing with the breeze, and sets up a heavy bass thrum in his throat; it's like he's lost for a moment, in all the years past, seeing all the creatures he's met, celebrating the great gifts of life and love. "Aye," he slowly drawls, eyes fluttering open as his swaying stops, glancing at each in turn with a nod. "They will come." He can feel the pulling in his chest, doubtless others will soon. "Gaia would not allow malice on her soil." He should know.
Ehh, who cares about the moon? Now if the /river/ decided to vanish, now that would be truly a tragic thing! But no- Flume knows that the lynx speaks the truth, and is quite excited for the occasion. Despite it meaning that she'll have to spend quite a lot of time out of her beloved water. It'll be fun, though, and she certainly enjoyed everything that happened last time. Hopefully this series of events will be even more magnificent! "Like last time, I need a single night to determine which patterns are appropriate for your markings and a single day to collect the supplies I'll need." Various locations are already coming to mind; various berries and fruits and other flora that will be perfect for her task. Flume looks carefully at each of her companions, both inspecting them for any physical changes since last she saw them as well as making sure that they understand her need for a full sun and moon cycle before she can apply their markings.
Kindle stands in attention of Sage's customary speech. The words as old as their tradition of gathering, perhaps older even. But they always fill the young ram with excitement for the things to come. He can feel his heartbeat pacing faster. He gives a subtle toss of his horns to the evening air. "The harmony will by safeguarded, I will see to that much." His tone isn't threatening, not in the faintest. The ram is confident that peace can be kept without falling to force. "Take as long as you need, Flume." He regards the otter now. "I pray this time my marks will be a little prettier?" As if it's within her control.
Sage nods in agreement with Gully. They will come. They always do. When Flume speaks up, the lynx's icy irises turn in her direction, and she offers another nod. "Of course. We will meet here again tomorrow -- hopefully with others among us," she adds with a smile. "Until then, may the spirits keep you well." She stands to take her own leave as the group disperses to their own ways, moving to hunt for tonight's dinner far from their temporary residence in respect to her non-predatory companions.